The Moon of Doom

Frizz and Nug attempt to collect the Moon Of Doom.

Episode No

Season 3, Episode 3

Written by

Martin Gates, Sue Radley

Original Air Date

Jan 21, 1994

Previous Episode

Next Episode
The Moon Of Doom is the 3rd episode of the third season of The Dreamstone (and the 29th of the show overall). It first aired in the UK the 21th of January 1994.
The Moon of Doom, a large meteor that helps power nightmares is approaching it's thousand year orbit past the Sleeping World, and Zordrak is vehement on capturing it. Urpgor has organized Blob's men into a space mission to collect the Moon of Doom, however the Dream Maker is also aware of it's orbit and sends the Noops to capture it in a Dream Bubble. The Wutts surround Viltheed to prevent the Urpneys from stopping the mission, unaware Blob's team has already flown into space to collect it.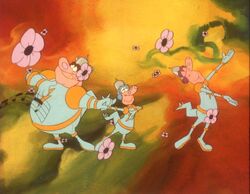 As the Noops try to snag the Moon of Doom, the Urpneys capture them, keeping them trapped inside their transport bubble while they collect the Moon of Doom. Pildit overhears Zordrak communicating with Blob in his lair, giving orders to despose of the Noops. The Dreammaker quickly utilizes a spell to neutralize the Urpneys into a peaceful trance, floating into the Noop's Dream Bubble. They then hijacked the Urpneys' spaceship, placing the Moon of Doom in another bubble to harmlessly continue orbit, and dropping off the Urpneys in Viltheed, where, after thoroughly enjoying their dream, they were left to answer to Zordrak.

You'll be so jealous when you hear, we've had such a lovely time!
This is the third episode to show a dream onscreen.